Bone
Bone
[Noun]: Any of the pieces of hard whitish tissue making up the skeleton in humans and other vertebrates
(Oxford Dictionary Definition)
Urs Fischer 
Urs Fischer's sculpture pieces utilise skeletons in often unexpected or slightly humorous poses, juxtaposing the connotations often associated with the objects.   
Urs Fischer, 'Skinny Sunrise' (2000)
Skinny Afternoon (2003)
(http://withreferencetodeath.philippocock.net/blog/fischer-urs-skinny-sunrise-2000-2007/)
Alexander McQueen 
A lot of the designer's work is inspired by and features skeletons, especially skulls and bones.
(http://farm5.static.flickr.com/4092/4833924489_740b074d8d.jpg)
(http://25.media.tumblr.com/tumblr_mcpe5q8Jzm1rr5mx8o1_250.png)
(http://lumete.com/wordpress/wp content/uploads/2011/08/mcqueen_silverspine.jpg)
(https://sssourabh.files.wordpress.com/2011/08/screen-captures7.jpg)
Damien Hirst
Besides his very famous diamond skull piece, Damien Hirst created his 'Gone But Not Forgotten' (2014) piece, featuring a gilded wooly mammoth skeleton housed in a glass and steel box, which sold for 11 million euros at the 2014 charity Cinema Against Aids event in 2014.   
(http://momart.com/news/2014/05)
Cotton
Cotton
[MASS NOUN]:A soft white fibrous substance which surrounds the seeds of the cotton plant and is made into textile fibre and thread for sewing
(Oxford  Dictionary Definition)
"This is a tremendously mutable fibre that can be spun, woven and finished to produce a myriad of weights, textures and prices, suitable for buyers of any rank and attractive to virtually all communities." (Beverly Lemire's Cotton) 
Ai Wei Wei 
In 2006, the artist created a world map cut out of layers of cotton. 
 (From Ai Weiwei Works 2004 - 2007)
(From Beverly Lemire's 'Cotton')
(From 'Cotton Worldwide' by Christina Kleineidam and Hans Peter Jost)
Feathers
Feathers
 [Noun] Any of the flat appendages growing from a bird?s skin and forming its plumage, consisting of a partly hollow horny shaft fringed with vanes of barbs
(Oxford Dictionary Definition)
Kate MccGwire
Feathers are a large element of MccGwire's pieces, which are usually sculptural and feature organic forms. 
(http://blog.katemccgwire.com) 
Lucy Glendinning
The artist did a series of child and toddler-like forms, covered in feathers. 
Feather Child 4 (2010-2012)
(http://slash-paris.com/en/evenements/lucy-glendinning-i-am-not)
(https://clairgriffin.files.wordpress.com/2013/09/feather-child-2.jpg)
"The suite "Feather Child" originates from Glendinning?s fascination with visions of a future society. The feathered children are embodied questions, where the artist is asking us if we, in a world where our genetics could be freely manipulated, will be able to resist altering our physical abilities. Will necessity or vanity be the ruling power? Will we act collectively or as individuals? The fragility of the feathers is simultaneously mirroring the perhaps most classic tale of human hubris: the fate of Icarus in Greek mythology. How far can humanity progress before everything falls apart?" - (http://www.lucyglendinning.com/about/index.html) 
Grey Goose x Stephen Jones
For a charity event at Central St. Martins for art schools, the milliner, Stephen Jones, created and donated a grey goose bottle covered in grey feathers.  
(http://assets4.howtospendit.ft-static.com/images/72/a7/66/72a76628-8a3f-4170-9c15-d977fd8651f7_three_eighty.jpg)
(photo: my own)
Alexander McQueen
Feathers are a frequently used material in the fashion house's designs.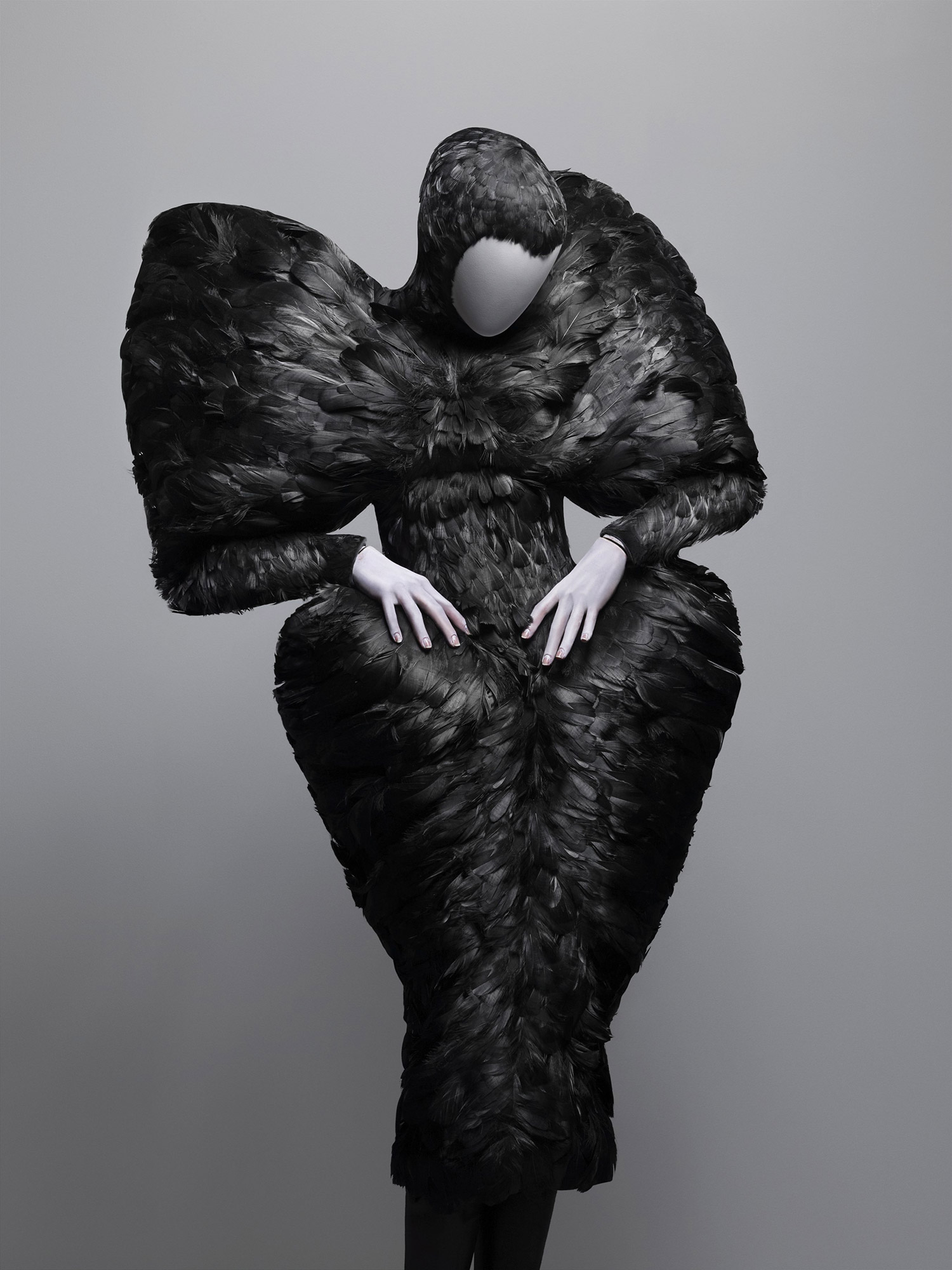 (http://blog.metmuseum.org/alexandermcqueen/images/9.McQueenBlackDuckFeathersFall2009-10.EL.jpg)
(https://athoughtfuleye.files.wordpress.com/2010/11/104804575.jpg?w=361&h=555)
(http://3.design-milk.com/images/2012/07/Alexander-McQueen-rainbow-dress.jpg)
(https://abeautifulviewonlife.files.wordpress.com/2011/12/savage-beauty-alexander-mcqueen-gold-feathers-dress.jpg)
Appliqué
Appliqué
[MASS NOUN]: Ornamental needlework in which pieces of fabric are sewn or stuck on to a larger piece to form a picture or pattern
(Oxford Dictionary Definition)
Some Appliqué can have an element of embroidery to it or sense of experimentation with layering and combining different fabrics. 
(From Val Holmes' "Creative Recycling In Embroidery")
Some appliqués involve more 3D elements. 
(From C. June Barnes' "Exploring Dimension in Quilt Art")
Quilting is a very popular form of appliqué. 
(from 'Kaffe Fassett Quilts: Shots and Stripes')
Dolce & Gabbana 
(http://coolspotters.com/files/photos/808041/dolce-and-gabbana-spring-2012-rtw-lace-longsleeve-dress-with-applique-flowers-profile.jpg) 
Christopher Kane 
(http://4.bp.blogspot.com/-LmxlPMl1-c4/UnEoNmL6LPI/AAAAAAAAB5k/-Mtg0U2Gg_c/s1600/diy+project+christopher+kane+tapped+top+lace+appliqée+inspiration+spring+summer+2013.jpg) 
Stella McCartney 
(http://www.polyvore.com/cgi/img-thing?.out=jpg&size=l&tid=101422537) 
Dolce & Gabbana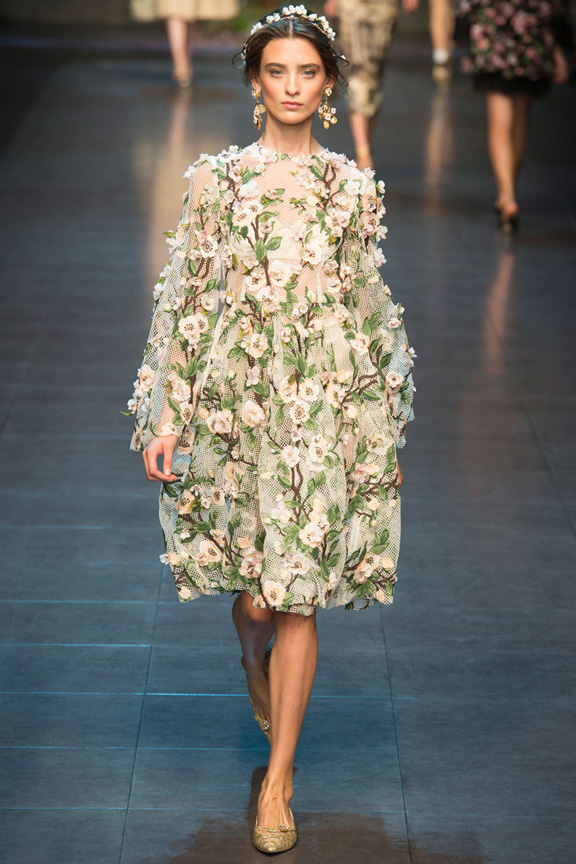 (http://searchingforstyle.com/wp-content/uploads/2013/09/Love_DolceGabbana_SS14_2.jpg) 
Christopher Kane 
(http://cdn-images.farfetch.com/10/96/04/45/10960445_4639922_300.jpg)
Dolce & Gabbana 
(http://coolspotters.com/files/photos/947504/dolce-and-gabbana-fall-2012-rtw-shorts-with-floral-applique-profile.jpg) 
Chanel 
(https://s-media-cache-ak0.pinimg.com/736x/03/3e/16/033e16eb306664d5dfe1b5d2365c3021.jpg) 
Balance
Balance
[MASS NOUN]: An even distribution of weight enabling someone or something to remain upright and steady
(Oxford Dictionary Definition)
Calder 
Calder is well-known for making mobiles and mobile-inspired sculpture utilising balance. 
(http://www.tate.org.uk/art/artists/alexander-calder-848)
Julian Hoeber
Julian Hoeber's 'Demon Hill 2', an installation in a gallery in West Chelsea, uses "gravitational mystery spots" to manipulate viewers' sense of balance. 
(http://afflante.com/24622-demon-hill-2-installation-julian-hoeber/)
Jacob Tonski 
By using a system of magnets, Tonski was able to balance a 170 year old victorian couch on one leg. 
(http://miamioh.edu/news/top-stories/2014/06/tonski-thingworld.html)
(http://www.creativeapplications.net/wp-content/uploads/2013/08/balance-from-within-jacob-tonski_03.png)
Martin Smith 
Much of the ceramicist's work embodies a sense of balance that is visible in the pieces. 
(From 'Martin Smith: Ceramics')
Jacob Tonski: Balance From Within
Crush
Crush
Verb [WITH OBJECT]: Deform, pulverize, or force inwards by compressing forcefully
(Oxford Dictionary Definition)
Rob Brandt
Ceramicist, Rob Brandt, created the ceramic "Crushed Cup", inspired by Dutch plastic coffee cups that crinkle upon crushing them. 
(http://www.droog.com/webshop/products/crushed-cup/)
Anya Hindmarch
Designer Anya Hindmarch created the "Crisp Packet" clutch, individually made to resemble a crumpled bag of crisps. 
(http://www.anyahindmarch.com/Families/Crisp-Packet/)
John Chamberlain
The artist's sculptures feature many crushed metal components. 
(http://www.guggenheim.org/new-york/collections/collection-online/artists/bios/1034/John%20Chamberlain )
(http://web.guggenheim.org/exhibitions/chamberlain/images/1991_x.2011.778_chamberlain_a.jpg)
(http://artobserved.com/artimages/2012/02/John-Chamberlain-at-the-Solomon-R.-Guggenheim-Museum-17.jpg)
New York Times article on Chamberlain: 
http://www.nytimes.com/2011/12/22/arts/design/john-chamberlain-artist-of-auto-metal-dies-at-84.html?_r=0
Banksy 
In 2006, Banksy created a telephone box that appears to be bent and broken, which he put on a soho street briefly. 
(http://www.stencilrevolution.com/banksy-art-prints/london-phone-booth/)
Dirk Skreber
Skreber's works use many crushed cars and pieces that resemble a car wreck. 
(http://www.saatchigallery.com/artists/dirk_skreber2.htm)
 Issey Miyake 
Many of Miyake's designs have a crumpled or crushed quality to them. 
(https://www.pinterest.com/pin/328270260317285882/)
"He patented the technique in the following year as Pleats Please, a source of crushed, ripply metallic knits displayed on kinetic mannequins."
-(https://books.google.co.uk/books?id=xe1nBwAAQBAJ&pg=PT1049&lpg=PT1049&dq=miyake+crushed+dress&source=bl&ots=QcWEeAhFGK&sig=WZyRZ5ITPhro82loM55Dc94jugk&hl=en&sa=X&ved=0CFcQ6AEwDmoVChMI5ba374PyxwIVI5rbCh0NdA8U#v=onepage&q=miyake%20crushed%20dress&f=false)
Cut
Cut
Verb [WITH OBJECT]: Make an opening, incision, or wound in (something) with a sharp-edged tool or object
(Oxford Dictionary Definition)
Lernert and Sander 
The artists cut perfect cubes (2,5 x 2,5 x 2,5 cm) of unprocessed foods for a photograph for a Dutch newspaper, De Volkskrant. 
(http://lernertandsander.com/cubes/)
Yoko Ono 
In 1967, Ono's "Half a Room" piece appears to be a whitewashed room, but it features partial and cut furniture.  
(http://www.theguardian.com/culture/2014/sep/27/yoko-ono-bluecoats-liverpool-review-archive-1967)
(http://wendyperron.com/wp-content/uploads/2015/05/HalfRoomCropped-1024x572.jpg)
Damien Hirst 
Some of Hirst's well-known formaldehyde animal pieces feature animals that have been cut perfectly down their centre to be displayed in parallel glass cases next to each other.  
(http://www.tate.org.uk/art/artworks/hirst-mother-and-child-divided-t12751/text-summary)
(http://artobserved.com/artimages/2010/06/hirst_black_sheep_1.png)
Ai Weiwei 
"Weiwei used ancient Chinese woodworking techniques to join pillars from Qing dynasty temples and then carved the shape of China out of the middle.  It?s a statement on how China is a nation forged from many cultures and peoples."
( http://www.stephenokin.com/2014/07/)
(from Ai Weiwei Works: 2004 - 2007)
(from Ai Weiwei Works: 2004 - 2007) 
Weiwei did a few pieces of tables and desks, cut and reattached, with missing legs, and some cut and folded so two legs rest up against a wall. 
Woodcut Prints
Woodcut,A popular printmaking technique, involves using a piece of carved wood as a stamp to create a print. 
(From 'Philip Sutton Woodcuts 1962 - 1976)
Pop-up books 
Pop-ups involve a form of cutting and using a system of connected pieces of cut card or paper to create a three dimensional image between two opened sheets. 
(From 'Paper Engineering for Designers: Pop-up Skills and Techniques')